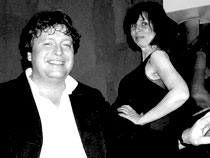 ULLI KRON – piano
CHRISTINE VON BIEREN – vocals, harmonica

Rhytm'n'Blues & Rock'nRoll
ULLI KRON meets THE CAT

THE CAT, born as Christine Vogel in Nuremberg, Germany, started her musical development in the age of ten with classical piano lessons. In the early age of sixteen she already started listening to records of Roosevelt Sykes, Memphis Slim and others and visited Blues concerts and festivals. From this time a deeply rooted love for this music developed. This love is always present on stage: the audience can feel it in the expression of her harmonica playing, the groove of her piano playing and in the intensity of her voice or harmonica playing.
Wheather THE CAT displays her fresh power in up-tempo Rock'n'Roll songs or playing the Blues laid back: you can always hear the attachement to the famous or unknown figures of Rhythm'n'Blues. Her originals are composed in the traditional style and tell of stories of her personal daily life, often very humorous, about nightmare men, recession, lumbago or the happiness of a zombie. Together with the sensitive support of ULLI KRON she succeeds in creating something really sepecial.
Nationwide THE CAT became famous with tours as support act for Lovie Lee (Muddy Waters' last piano player), a duo tour with harmonica legend Carey Bell in Austria and with Carey Bell and her Band "The Gators" throughout Central Europe. In 1993 the appeared in the successful Rock'n'Roll musical "Fürth Side Story".
ULLI KRON, born 1966 in Wuppertal, is meanwhile an established pianist within the european Blues and Boogie Woogie scene.
Already in the age of 18 he appeared on stage infront of a huge audience. From that time on he played in more than a dozen european countries between Norway and Greece, Ireland and Hungary.
In 1989 he was awarded with the "Oscar for minor arts" and published his first album entitled "Friday Night Mood" which was followed by seven more publications: "Keys On Fire" (1991), "Boogie Woogie Thunderstorm" (1992), "Boogie Woogie Meeting" (1994), "Full Steam Ahead!" (1995), "Christmas Mania" (1996), "Since I Fell For You" (1999) and "Piano Solo" (2000). Furthermore he appeared as a guest musician on numerous CD's and worked with well-known characters of this music like Angela Brown, Jeanne Carroll, Dave Peabody, Dave Kelly, Bob Hall, Albie Donnelly a.o.
In 2005 Ulli Kron is celebrating his 20th anniversary on stage.